ProfessionaLE: Starting a suicide prevention organisation
January 18 @ 1:00 pm

-

2:00 pm

Free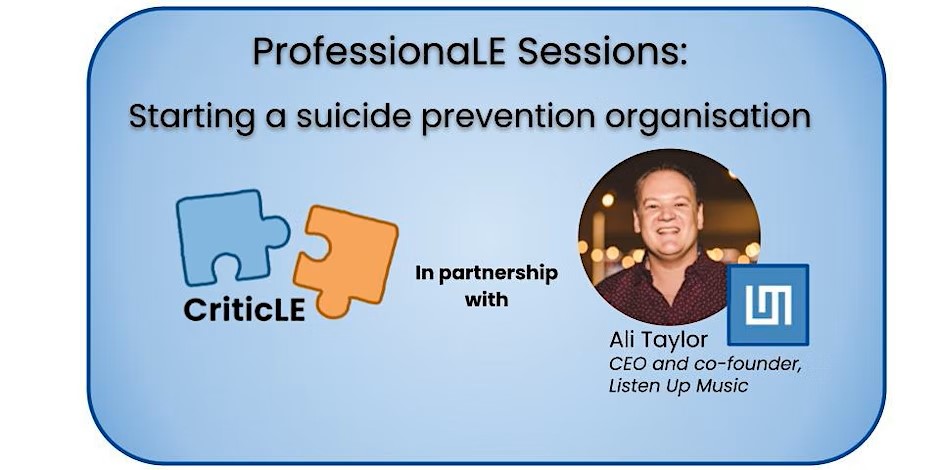 Have you thought about starting a charity or formal organisation as the vehicle for your lived experience work? It is common for people with lived experience to get frustrated with the way things are in suicide prevention, and want to start something new to fill a gap they see.
Join Hayley for a chat with Ali Taylor who has done just this in the form of a mental health charity for the music industry. Listen Up Music grew from Ali's early advocacy and work in suicide prevention and, together with Hank Paul and others, Ali has built Listen Up Music to be an important organisation supporting the music industry. Hayley and Ali will talk about when you might consider starting a new organisation, what are the pro's and con's of formalising your work in this way and more.
This session is part of a series of monthly conversations to empower you to professionalise your lived experience. CriticLE is partnering with leaders who use their lived experiences to make change in the suicide prevention sector. The ProfessionaLE sessions are for anyone who wants to do more with their lived experience work and for anyone who wants to partner with people with lived experience.
Join us as we learn by experience.
Find out more about us here:
Hayley Purdon http://criticle.com.au/
Ali Taylor and Listen Up Music https://www.listenupmusic.com.au/
Related Events