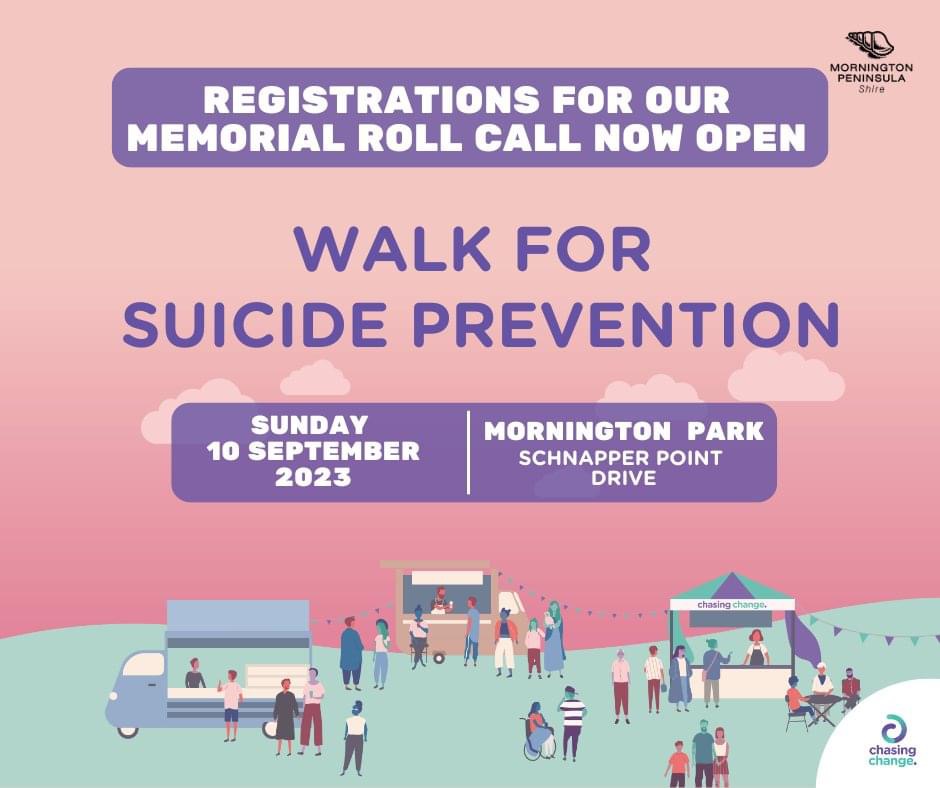 Every year Chasing Change acknowledges World Suicide Prevention Day by hosting an annual Walk for Suicide Prevention where the community is invited to come together to commemorate this day and reflect together on the lives lost to suicide.
From 9am you can get yourself a cuppa, something to eat, catch up, connect, grab your ribbon, and check out the information and merch stalls.
From 10am formalities will commence including guest speakers, a memorial roll call, and then the walk.
An important part of this event is the memorial roll call where the names and ages of those lost to suicide are read out during a moments silence.
If you would like the name of a loved one lost to suicide to be read from the Memorial List at the Walk for Suicide Prevention, please fill out the Eventbrite registration form.
https://www.eventbrite.com.au/e/memorial-list-registration-walk-for-suicide-prevention-2023-tickets-684571922047?aff=ebdssbdestsearch&fbclid=PAAaYFuRq0A3fisVUCVZlv_e94pOMHbBwOB_C5ulk2q1PINOZzVe63uYkXCy8_aem_AQgBjXSmCRM4Le267Z6Y_D2xcyBWCzkhLSWaWUQWwszSrw0mkjwLws7zSgVgBYCZ4DI