A mental health and suicide prevention webinar series

Connect 2020 is Suicide Prevention Australia's webinar series bringing together thought leaders and innovators to share ideas and support our vision of a world without suicide.
Connect 2020 is a unique opportunity to connect and learn from mental health and suicide prevention leaders. The webinars will explore a range of topics including mentally healthy workplaces, mens' health, carers and postvention.
Attendees at all eight webinars will receive an official Certificate of Completion.
The series is proudly supported by global leader in suicide first aid training, LivingWorks. Learn more about their new 60 minute online suicide intervention skills training program, START.

Feedback from attendees: 
"Attending Connect 2020 has been a highlight of my working from home experience (re: COVID 19). This webinar has given me food for thought about the industry I work in as well as my own mental health. A big thank you Suicide Prevention Australia for organising this event! The thought behind the choice of speakers was spot on and their content most relevant."
"Together we are building a new body of evidence of what works. Thanks to Suicide Prevention Australia for creating the platform that enables us to connect, understand and do better with, and for people, their families and communities."
"I would like to thank all for your support in sharing the Connect 2020 to our workplaces or living rooms during these testing times we are all facing in today's world."
Webinar 4: Breaking new ground through innovative research
Event Details
Date: Tuesday 18 August 2020
Time: 10.30am – 12.30pm
Register: Click here to register
Free for members of the Suicide Prevention Australia Lived Experience Panel
Contact
Phone: 02 9262 1130
Email: events@suicidepreventionaust.org
Join our mailing list to receive regular updates about the series.
Webinar Partner: International Association for Suicide Prevention

About the webinar
Connect 2020 Webinar 4 and Webinar 5 are a two-part series focused on research in suicide prevention.
There has never been greater momentum behind suicide prevention. With funding and research hitting record levels in 2020, Australia is at the forefront of innovation in evidence-based mental health and suicide prevention programs. Now, it's time to hear from the researchers behind some of the ground-breaking suicide prevention trials and research in Australia.
Our speakers will explore some of the research currently happening in Australia. In a session moderated by Professor Don Nutbeam, we've also invited Suicide Prevention Research Fund grant recipients to present a 'Project Snapshot' – a 3-minute outline of what they're researching, and some of the early results they are seeing.
Don't miss out on this exclusive opportunity to hear directly from those at the forefront of research and innovation in suicide prevention.
Please note attendees at Webinar 4 will be offered a discounted registration to Part 2 of the research series in September.
Speakers
Moderator: Professor Don Nutbeam
Don Nutbeam is a Professor of Public Health at the University of Sydney, and Principal Senior Advisor at the Sax Institute, an independent, not for profit organization dedicated to knowledge transfer for better public policy.
His career has spanned positions in universities, government, health services and an independent health research institute. Prior to returning to Sydney in 2017, he was Vice-Chancellor (Rector) of the University of Southampton, UK from 2009, and before that Academic Provost (2006-9) and Pro-Vice-Chancellor (Health Sciences) at the University of Sydney from 2003. In this latter position, he was Head of the College of Health Sciences, comprising the Faculties of Medicine, Health Sciences, Dentistry, Nursing and Pharmacy.
For the period 2000–2003 Professor Nutbeam was a senior public servant in the UK, Head of Public Health in the Department of Health. In this role he was responsible for managing a large Division of the Ministry, leading policy development within the Ministry and across government on a range of complex and large-scale public health challenges. He was also responsible for the development of the public health workforce across the whole of England, and public health research and information strategies.
His career prior to 2000 included a 10 year spell at the University of Sydney as a Professor of Public Health and in different leadership roles, including Head of the School of Public Health, and Associate Dean, Faculty of Medicine; and prior to 1990, various appointments in the UK in public health roles in the NHS, an independent research institute and a government agency.
His research interests are in the social and behavioural determinants of health, and in the development and evaluation of public health interventions. Over the past decade he has focussed on developing and testing health literacy interventions through funded research in collaboration with colleagues in the UK and Europe, and in Australia. He continues to publish regularly and his work on health literacy is among the most highly cited in the world.
He has substantial international experience in both developing and developed countries, working as an advisor and consultant on public health issues for the World Health Organisation over a 35 year period. He has also worked as consultant and team leader in health system capacity development projects for the World Bank.
Professor Jane Pirkis: Ethical issues in suicide prevention research
Professor Jane Pirkis is the Director of the Centre for Mental Health at the University of Melbourne. She has worked in the suicide prevention field for nearly 25 years and has a particular interest in reporting and portrayal of suicide in news and entertainment media. She is Vice President of the International Association for Suicide Prevention (IASP), and was a founding co-Chair of IASP's Suicide and the Media Special Interest Group. She is the Editor-in-Chief of Crisis, and the 2019 winner of the IASP Stengel Award for Outstanding Research in the Field of Suicide Prevention.
Sally Morris: Highlighting research and evidence gaps in LGBTIQ suicide prevention
Sally Morris has worked in mental health and suicide prevention over the last 20 years with an undergraduate Bachelor's degree in human services. Her work has had a primary focus on improving the mental health of LGBTIQ people and communities by identifying, challenging, and addressing practices of structural stigma that has a detrimental impact on health and wellbeing.
Sally's work within the community sector has included case management, group facilitation, project management, writing policy and procedures, service coordination, community capacity building, sector development, development and delivery of professional development training, and network building and facilitation. Sally has a particular interest in the role of social inclusion and belonging in mental health and completed a Masters of Development Practice (Community Development) through the University of Queensland in 2018.  Sally has published a number of articles in the areas of LGBTIQ people, suicide prevention, and disaster recovery, and regularly presents at conferences on LGBTIQ mental health, suicide prevention and inclusive practice.
Project Snapshots:
Debra Osborne
Jin Han: Learning from adversity – brief interventions for negative affect in youth with suicidal thoughts
Monika Ferguson: Safety planning in the emergency department – consumer, carer and clinician outcomes
Help us share the event
Interested in helping us share Connect 2020? Below are some resources you can use to share the event with your networks. Don't forget to tag Suicide Prevention Australia on social media so that we can see your posts!
Connect 2020 Logo

Connect 2020 Social Media Tiles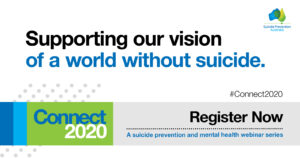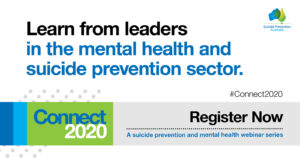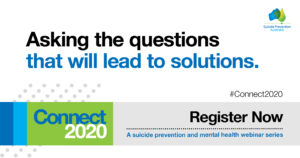 Connect 2020 Newsletter Content
Connect 2020 is Suicide Prevention Australia's webinar series. The webinar series connects thought leaders and innovators to share ideas and support our vision of a world without suicide.
The webinars will explore a range of topics including mentally healthy workplaces, mens' health, carers and postvention.
Attendees at all eight webinars will receive an official certificate of completion.
Read more: www.suicidepreventionaust.org/connect-2020