Assuring the safety, quality and efficacy of Australia's suicide prevention programs.
The Suicide Prevention Accreditation Program supports organisations to implement safe, high-quality and effective suicide prevention and postvention programs in Australia.
We are striving to ensure that every person who needs support can access a consistent, high-quality and safe standard of care.
Suicide Prevention Australia partnered with people with lived experience of suicide, consumers, clinicians, service providers and accreditation experts to develop the Suicide Prevention Australia Standards for Quality Improvement, 1st Edition (the Standards).
The Suicide Prevention Accreditation program is funded by the Australian Department of Health.
ELIGIBILITY
The Suicide Prevention Accreditation Program is for all suicide prevention and postvention programs. A suicide prevention program is one that is implemented to address, prevent or respond to suicidal behaviours and their impact on people, families, communities and the Australian population.
FURTHER INFORMATION
If an organisation is unsure if the program meets the suicide prevention standards or wishes to discuss any aspects of eligibility for the Suicide Prevention Accreditation Program, please contact Suicide Prevention Australia on qip@suicidepreventionaust.org or phone: 02 9262 1130.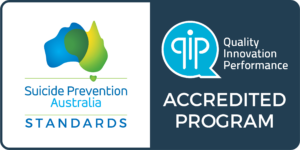 BEST PRACTICE DIRECTORY
Search by location or type for services in the Best Practice Directory.
These services have met or are undertaking formal independent assessment against the Accreditation Program.
"Proper implementation and evaluation practices are crucial to developing effective suicide prevention activities. Beyond Blue sees the Suicide Prevention Quality Improvement Program as an important step towards this collective goal, and supports the collaborative, co-designed approach underpinning it."
Beyond Blue
---
"StandBy has been operational since 2002 and we are the largest postvention program in Australia. There are currently no standards for us to map StandBy against. The Suicide Prevention Quality Improvement Program will help us continue to be leaders in best practice postvention."
StandBy Support After Suicide
---
"The Connecting with People Program and resources were developed to make a positive difference to people in distress and those supporting them. They are underpinned by the latest international thinking, evidenced-based principles, lived and living experience in suicide prevention, with coproduction and compassion at their core. Safety, quality, and governance are extremely important to us, so we are delighted to be in the first wave of programs joining the Suicide Prevention Australia Accreditation Program."
Connecting with People
Listen to LivingWorks CEO