This week, Doing It Tough released its second campaign titled, "Not all smiles are happy".
Funded by NSW Health, Doing It Tough was created by Suicide Prevention Australia in partnership with Australian Men's Health Forum in consultation with people who have lived experience of suicide and mental health.
The campaign, "Not all smiles are happy" features a series of powerful images and messages that challenge the commonly held belief that smiling is always an indication of happiness. Through social media tiles and posters, the campaign encourages people to look beyond the surface and check in with the men in their community.
This comes as recent data from NSW Suicide Monitoring System, showed that 3 out of 4 NSW suicides are men.
Developed with creative agency Silver Lining, the campaign encourages men to access the Doing It Tough website, which has over 150 NSW based community led organisations and services, that are there to support men.
This campaign was developed in consultation with the Doing It Tough Advisory Group, Suicide Prevention Australia and Australian Men's Health Forum Lived Experience groups.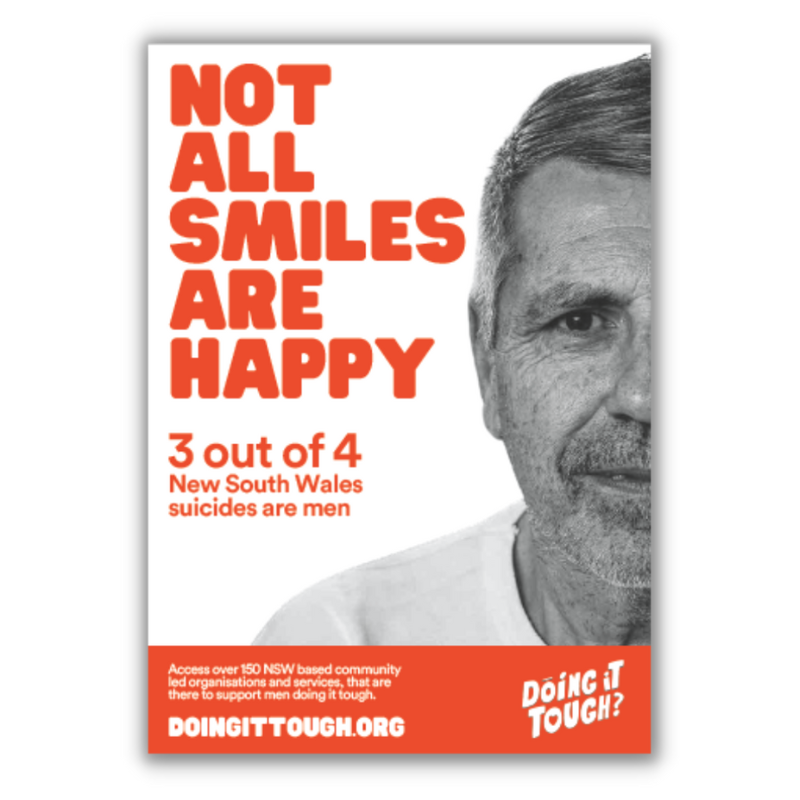 Materials from the campaign have been added to a Resource Pack that stakeholders can download and share across their platforms, to help raise awareness.
The resource pack contains:
1 x Welcome brief
6 x A3 Posters
7 x Social media tiles (sizing: Facebook & Instagram)
3 x Suggested social media captions
1 x Email template
If you want to help spread the message, please download the Resource Pack below.